Assess readiness, understand setup steps, and connect to vendors and other operations resources – all in one place
The faster a franchisee can be qualified and operational, the faster everyone can make revenue.
Flexible platform for Brokers, Franchisors, and Franchisees
 Let StartBlox online platform guide the way through the process while easing one of the biggest challenges to getting off the ground: making sure all setup steps are completed for a successful launch.
In addition to the fundamental things every business owner needs to do – getting permits/licenses, setting up accounting, hiring employees, etc. – franchisees need to consider specific franchise requirements. This could include things like signage and advertising standards, preferred vendors, and many other items that may or may not be formalized in a playbook.
Regardless if this is the first business or the fifth, there are many details a business owner needs to keep track of all at the same time. And our platform will lead the way forward through them all.
We're your virtual setup hub
Connect startup education, member community, and resources for your SMB population – all in one place
Offer your clients tools to be successful after the sale
Establish a deeper relationship with your clients, evolving from broker to business advisor
Promote StartBlox as a value add to your business practice
Drive referrals – successful clients are more likely to refer you to other potential franchisees
Get franchisees up and running faster than if they are trying to figure things out on their own
Ensure franchisees don't miss critical startup steps
Customize content to your particular franchisor's specifications
Promote thoughtful consideration of various disciplines (marketing, finance, HR, etc.) for more holistic view of business
Provide a resource for ongoing support and learning to help franchisee evolve their business over time
Support an owner community where franchisees can share best practices with one another
Don't reinvent the wheel – follow what others have done before you to move more quickly
Keep your process moving forward by following organized guidance
Manage milestones and don't miss critical steps on your way to getting your business started
Learn critical business disciplines you may not be familiar with already
Get access to subject matter experts to help solve business problems
Don't just learn what to set up –
obtain many of the software tools a business needs to run as well.
We're partnering with another all-in-one software Franchise Max to offer clients marketing automation, CRM, project boards, and reporting.
Start off with StartBlox then run with Franchise Max for end-to-end franchise establishment.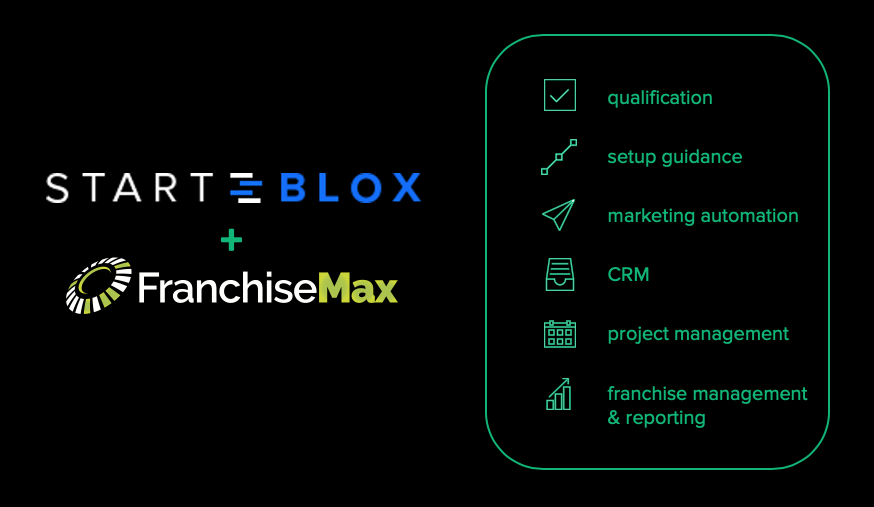 Join the community and build your business together with us
All individual subscription plans start with a free trial period